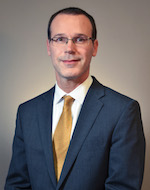 Christopher Scott
Vice President
Eurofins Medical Device Testing
Eurofins Scientific (Brussels) may be an unfamiliar company to many U.S. device manufacturers — but maybe not for long. Eurofins is an international laboratory services company that provides an array of testing services, annually performing more than 150 million tests to establish the safety, composition, traceability, and purity of chemical and biological substances, components, and manufactured products. The company's network of more than 250 laboratories in 39 countries includes a new business unit — Eurofins Medical Device Testing — that has already become an emerging force in lifecycle testing for medical products worldwide. To find out more about the expertise that Eurofins brings to this area, and the company's plans for expansion into the United States, Medical Device Briefs recently spoke with Christopher Scott, vice president of Eurofins Medical Device Testing.



MDB: In Europe, Eurofins laboratories have performed analytical testing for a wide range of industries. How has this experience contributed to the company's acknowledged expertise in testing for life sciences companies?

Scott: The core competencies that Eurofins has demonstrated in supporting these other industries provide a strong basis for its increasing focus on medical device testing. With more than 120 experienced PhDs specializing in bioengineering, chemistry, microbiology, and toxicology across 16 facilities, each of our laboratories contributes an element of technical expertise and capability that strengthens the overall network, and in-depth knowledge of the local operating and regulatory environments specific to the medical device industry.

MDB: What opportunities led Eurofins to launch its new business unit focused on medical devices, and why was the United States selected for its headquarters?

Scott: The device industry is becoming more global. For example, a device company based in the United States might manufacture its product in Asia, and seek CE marking in Europe. In order to address logistical and local regulatory considerations, clients require a qualified testing partner that operates in all of those regions. With many of the world's largest device manufacturers located in the United States, it was a logical decision to headquarter Eurofins Medical Device Testing at our state-of-the-art 71-acre campus in Lancaster, PA.

MDB: What types of testing services offered by Eurofins will be most in demand by medical device manufacturers?

Scott: FDA recognizes more than 1,000 consensus standards as relevant to medical devices, with some standards comprising well over a dozen individual tests. Additionally, innovative product designs require many customized test methods. With core strengths in analytical chemistry, biocompatibility, mechanical and electrical testing, and microbiology, Eurofins is uniquely capable of addressing a wide range of needs for this industry.

MDB: Let's talk about a few of these areas in more detail. Physiochemical analyses are often a company's first line of defense against improperly formulated materials and components. What kinds of tests does Eurofins perform in this area?

Scott: Eurofins Medical Device Testing can perform the full range of ASTM, ISO, and USP tests to thoroughly characterize the physiochemical properties of a raw material or finished device. These tests are necessary for meeting the verification requirements for a new product design, including assessments of the effects of sterilization techniques, long-term aging, and in vivo stability. This type of testing is also relevant for qualifying new raw materials suppliers, or for ongoing product release testing.

MDB: Biocompatibility has always been a major concern for medical products — and especially for implantable devices. What kinds of services does Eurofins offer in this area, and what kinds of testing are involved?

Scott: As described in the series of standards for the biological evaluation of medical devices compiled by the International Organization for Standardization (ISO 10993), the general workflow for biocompatibility begins with a full chemical characterization, including extractables and leachables testing, followed by a toxicological risk assessment to determine what additional animal testing may be necessary. In coordination with its partner labs, Eurofins Medical Device Testing provides the full range of testing and toxicology services needed to ensure the biocompatibility of a new material or finished device.

MDB: For many types of devices, including implantables, microbiology and sterility testing are essential for product release. But validation of package integrity for maintaining sterility is just as important. What types of testing does Eurofins perform in these areas?

Scott: The connection between package and sterility testing is critical when validating any device that is shipped sterile to the end-user. Confirmation of appropriate dosing for a terminally sterilized product must be combined with a robust testing program to ensure that the packaging design will enable the product to survive the rigors of the entire distribution chain with its sterile barrier intact.

Eurofins has a state-of-the-art package testing facility capable of assessing the entire range of packaging, from primary sterile-seal integrity through full pallet-level transit testing, and integrity testing for unique device identifier labeling. Additionally, with nearly 200,000 ft3 of continuously monitored environmental chambers, we offer tremendous capacity for accelerated and real-time shelf-life studies.

MDB: What advanced test methods and instruments do Eurofins laboratories make available to their clients?

Scott: Eurofins provides a number of state-of-the-art technical capabilities, such as nuclear magnetic resonance analysis of unknown chemical contaminants, as well as the world's largest database for microbiological DNA sequencing. Another example is the use of our high voltage leak detection (HVLD) system for evaluating the sterile seal integrity of a prefilled syringe. What impresses many of our customers, however, is the delivery of these high-tech services, including real-time visibility to test data via our online data access portal, as well as our proximity to clients. With Eurofins' expansive footprint and comprehensive service offering, clients are able to choose from one of six sterility suites on three continents, depending on considerations of logistics or regulatory filing preferences.

MDB: Will the new business unit be focused exclusively on serving U.S. medical device manufacturers?

Scott: No. To the contrary, Eurofins Medical Device Testing recognizes the global nature of the industry, and intends to be a partner to all medical device companies regardless of where their products are manufactured or sold. Having said that, however, the U.S. site will provide a local connection to US medical device manufacturers, while leveraging the company's 30 years of international experience in testing medical devices.

MDB: Eurofins has a long history of performing product testing for biopharmaceutical manufacturers. Will the new medical device testing unit be able to access this experience to use in testing combination products?

Scott: Absolutely. Eurofins Medical Device Testing continues to coordinate closely with our biopharma colleagues to provide combination product testing for both biopharma clients that are prefilling drugs into delivery devices and traditional medical device companies that are coating their devices with active pharmaceutical compounds, or seeding cell scaffolds with biologic components.

MDB: In Europe, Eurofins is a Notified Body that can provide CE marking for most types of medical devices. How can U.S. medical device manufacturers take advantage of this capability?

Scott: Historically, there has been a bias toward registering products in Europe first, because the regulatory barriers were perceived to be lower there, but then companies would redouble their efforts when applying for subsequent FDA market authorization. I think medtech companies are now looking to adopt a more global strategy as they develop their products from the early stages. One advantage of having laboratories across three continents is that our customers are provided local access to broad international regulatory expertise and capabilities. In the case you've presented, for example, a U.S. manufacturer can initiate a dialogue with members of our U.S. team to engage our colleagues in Europe for CE marking services, and maintain the same relationship as they prepare for their US submissions.

MDB: Regulatory requirements for medical devices vary throughout the world. How will the new Eurofins business help device companies meet the requirements of various national and international regulatory schemes?

Scott: It is a challenge for medical device manufacturers to remain abreast of the ever-changing requirements across the multitude of regulatory agencies around the world. Having a local presence in each of the major regulatory markets allows Eurofins Medical Device Testing to provide its customers with access to its global pool of experts through a local contact point. The benefit to the customer is having a readily accessible project manager, with a shared native language, in a convenient time zone.

MDB: Some medical device sectors undergo technology change more rapidly than others. How do Eurofins labs keep up with the changes in their specialized fields of testing expertise?

Scott: This question points to one of the primary drivers for the outsourcing of testing by medical device companies. Keeping up with the advances in technologies requires an ongoing commitment to evaluating and integrating equipment and techniques that ensure the highest level of quality. In many cases our engineers and scientists lead the way in elevating the benchmark for testing of medical devices through active participation in standards-writing bodies.

One area that has been particularly rapid in its advancement is the handling of electronic test records, and data integrity. In order to ensure compliance with FDA's requirements for electronic records and electronic signatures (21 CFR, Part 11), Eurofins has made significant investments in information technology upgrades and the development of internal expertise in this area.

MDB: In terms of product development and regulatory testing, what medical device sectors do you consider most challenging right now? Why?

Scott: I believe the medical device industry is at the cusp of a new era. Advances in mobile electronic technologies are permeating every aspect of our lives, and are beginning to find their way into medical devices as well. There is no doubt that the benefits of applying these new technologies will be tremendous, but doing so will also present significant challenges to technology companies that are unfamiliar with the regulatory requirements for medical devices. Service providers such as Eurofins Medical Device Testing operate at the interface of the dynamic tech sector and the somewhat less than dynamic regulatory universe. Eurofins is excited to play a role in helping all such medical device companies bring safe and effective devices to market, which is a goal shared by all parties.

MDB: Eurofins has undergone significant growth over the past few years. How would you characterize that growth, and how has it improved the company's capabilities?

Scott: What began as a small European firm with 10 employees in 1987 has grown to become a global organization employing more than 25,000, and with sales exceeding €1.8 billion for the first nine months of 2016. The company is well known for its M&A activities, but underlying that growth through acquisitions is an impressive organic growth component. This organic growth is a testament to the success of the company's investments in ongoing laboratory operations, as well as to the synergistic value that is created when multiple laboratories combine resources and align their energies toward serving the needs of their customers.